A Zombie Squad member who liked the Neo-Tribal Razor I made a while back wanted one for himself and commissioned me to make one. Taking what I learned from the first one, I opted to make it from a worn out Nicholson file instead of a car spring. The higher carbon content would make it harder, holding its edge longer. The car spring razor needed to be stropped midway through a shave.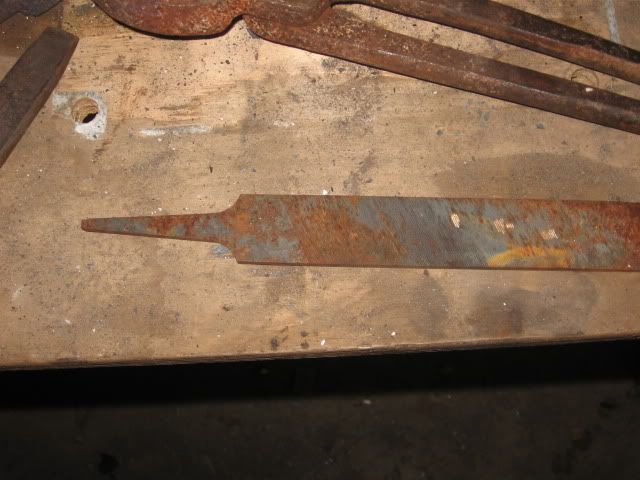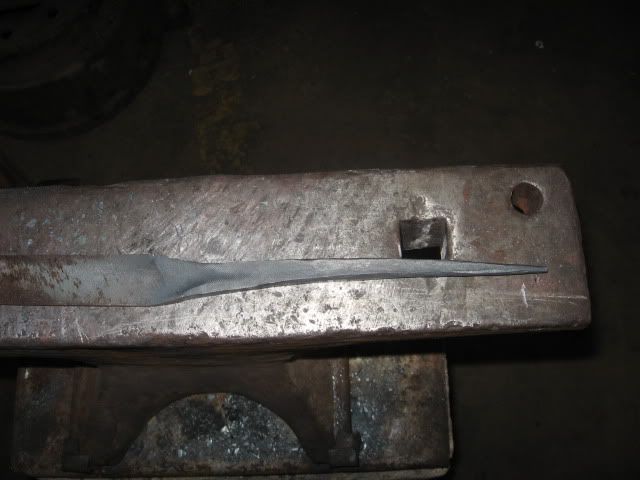 I forged it as thin as I could, ground it the rest of the way, and hardened in veggie oil before drawing temper lightly. The blade came out slightly smaller than the previous razor simply because there was not as much steel as in the spring. After soaking in vinegar to eat the scale off after forging, it was sharpened on a medium synthetic water stone, then a fine Arkansas oil stone, then a leather strop.
It's nifty in that you can see where the tang of the file became the last half of the handle of the razor.
My neighbor at my shop got injured in the leg in an accident with a freshly sharpened wood chisel. Wanting something to work on while his mobility was limited, he asked me to let him make the box for it. He's the same fellow who made the very nice camp ax with the curvaceous handle. The wood is red cedar. In a case of "it's a small world after all", the wood is scrap from a shop in Cross Plains, TX (slightly over 1,000 people), the town where Robert E. Howard, author of the Conan stories, amongst others, lived and killed himself. The shop makes custom porch swings and game tables, and had tables ordered to appear in
Casino Royale
, the James Bond flick a few years back.