All right, on another forum I read there was a discussion on the Cold Steel Bushman's usefulness as a spear (
http://www.zombiehunters.org/forum/view ... 8&start=24
) where I opined that it would be better used as a cheap, effective backup blade than a spear and a rabbit stick would probably do more to put food in your belly, I made this: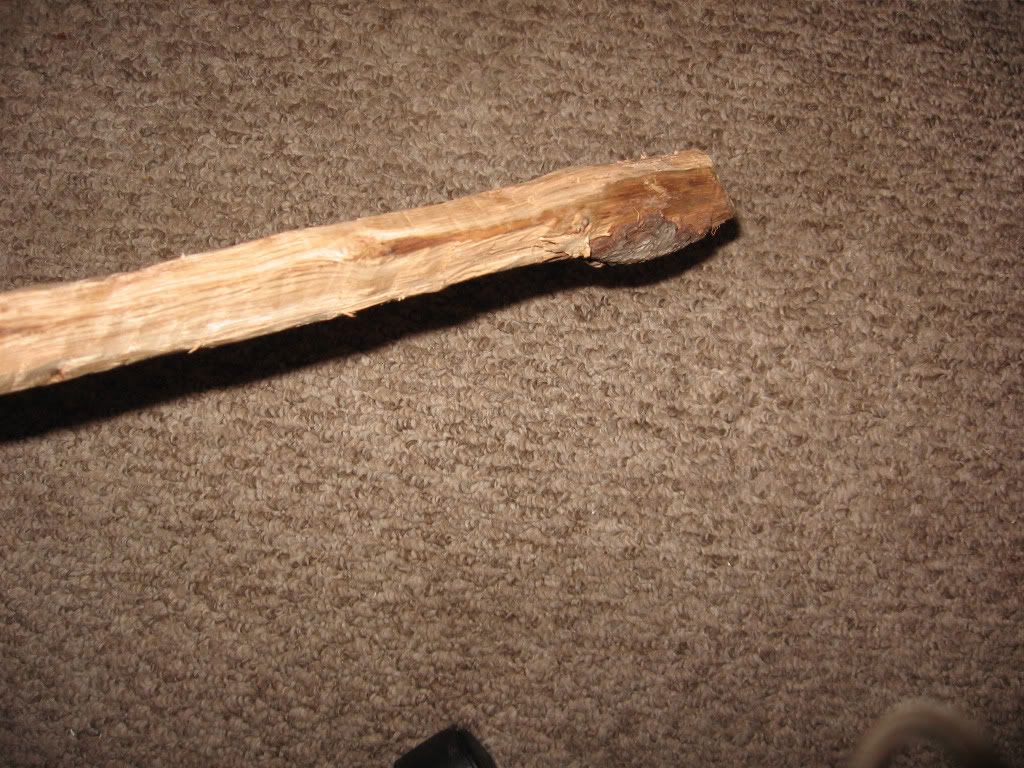 It is made from a dry (hard) live oak tree branch. The whole branch was about the size of the thick end. I don't know how obvious it is in the last pic, but I made it so that the front edge comes to a point to make it wedge through the air better than just a round stick will. The grip is tapered and smoothed more than the rest to help it slip through your grip better as you release it. It's quite rough overall, but effective and accurate at ranges that you can fairly easily stalk a rabbit or squirrel. The balance and weight also make it great for a war club to finish off stunned game or self defense if you turn it around so the weighted end drops down, the opposite direction that you would to throw it. Like a club khukuri.

It should crack a zombie skull when used as a war club, though it may take a couple of hits.
This was done during a couple of sessions when things were slow at work. Total time invested was probably no more than an hour and a half.
The tool used to make it? A Cold Steel Bushman.

Making my point. Make three or four of these so you can quickly replace a lost one, carry two when you're hunting, throw one, use the other as a follow-up to finish the kill if need be, skin and process with your Bushman. Your knife never is at risk, and the choice of weapon means you're stalking critters that are somewhat easier to stalk.