Hi! This game won't start until next week, because I have some IRL things to attend to. Still, I want to post the whole concept (including background, game rules) already, and would like to have some feedback!
The background story:
The Both Hands Full Clan is well known by their greed and talent of aquiring new equipment. The poorly locked chest is always full with better than better items, and the lucky adventurers who can open it are often killed while they rummage through the loot in their earnest bedazzlement.
A search party of 7 goblins has been sent out to recover new artifacts to raise the glory of the clan. There was a rumor of a cave called "The Cave of Wishes", which gave almost everything the intruders wanted. After a month long search they arrived to a cave, which fitted the descriptions. What is inside still remains to be seen...
Game Rules & Mechanics:
The aim of the game is (obviously) to collect loot. There won't be special characters like chief or healer, but there are different classes to play. This is supposed to be a somewhat light-hearted game and not a serious dungeon crawl.
Stats:
POWER (POW): The character's offensive power
DEFENSE (DEF): The character's defensive power
WOUNDS (WND): How many wounds have the character collected
FABOLOUSNESS (FAB): How fabolous is the character
The Battle system is a little different from the other games. The POW will be measured against the DEF value, and if it's higher, then the defending character gets 1 WND point. What will that affect and how many of that can be collected remains to be seen. If the POW is at least double of the DEF points, then there's an 50% chance to inflict yet another 1 WND. Monsters below 2 DEF (including players) are exceptions due to balancing reasons.
Fabolousness can be gained upon collecting items.
(See Loot!)
Equipment:
As it has been told, the aim of the game is gathering equipment. The drawing below shows the slots each goblin has: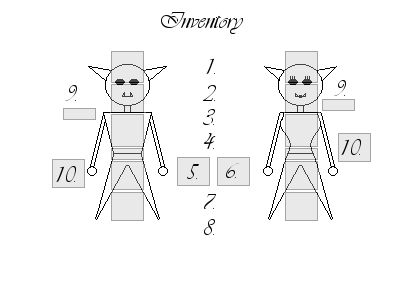 There are 11 slots, and there is a slight difference between males and females.
1: Headgear. Helms (both), Hairdo & Hair jewels (females)
2: Facegear. Masks (both), War paints (males)
3: Armor. (both)
4: Belt. (both)
5,6: Left hand/Right hand (both). Weapons and shields
7: Trousers or skirts (both ?)
8: Footgear. (boots, ankle bracelets, shin guards) (both)
9: Shoulder plates (male), necklaces (female)
10: 1 Ring (both), Gloves (male), Bracelets (female)
11: Special slot.
(See Classes)
.
There can be only 1 item in each slot. There is no general inventory. You cannot share your equipment. Rather said, the members of the Both Hands Full clan say that "Finders Keepers". You can throw away an item if you dislike it, but it cannot be picked up again, since it's demeaning to wear a second-hand item, right?
Classes:
The characters only have little to none difference among each other, it's just some flavour. There might be some hidden mechanics to them, though, but you won't know that until you arrive to the appropiate location.
Hero:
Can wear a cape in the 11th slot.
Looter:
Can wear any kind of item in the 11th slot. He gains the bonuses but it won't be shown. Rather, there will be a constant brown bag on his/her back.
Warrior:
Can wear an additional (1 or 2 handed) weapon in the 11th slot. It will give the FAB bonus but modifies POW/DEF only when worn in the 5-6th slots.
Tamer:
Can have a mount in the 11th slot. The mount might provide additional movement points.
Wizard:
Can have a fancy familiar creature in the 11th slot. The familiar grants 1 simple spell for the owner. (like fireball)
Jewel addict:
Can wear an additional jewel of her choice. Females only.
Tough Guy:
No 11th slot. That's for pussies.
LOOT!
The looting mechanism is the following. You state that you wish to loot in the room, and where do you do it and what are you looking for. Each room has a secret word, which you have to guess and include in your search. The word will have different letters, and it will be from the english alphabet. The more letter you guess from the word, the more fabolous the item you'll recieve.
The letters you guess should be the capital letters of the words.
Please note that you can only guess as many letters as the word consists of, but the item you are looking for can be as long as you wish.
Let's see an example:
You arrive to a room, which has kittens and puppies playing. The GM says the secret word is 3 chars long. There is a column, a table, a chest, and a vase in the room.
Player A goes and looks into the chest, stating: I'm looking for a "blue fanCy hAT"! (assuming the word was CAT)
Player B goes and checks the vase, stating: I'm looking for the "purple sworD of Octopus killinG"! (he assumes the word was DOG)
Player C checks behind the column, stating: I'm looking for a "CAkesplitter Teaspoon"! (he also assumes CAT)
Player D opens the shelf of the table and states: I'm looking for a "Jewel of the Awesome catterpillaR) (she just throws random letters in, JAR in this case.)
Let's assume that the secret word was indeed CAT, and there was nothing behind the columns. In this case
A gets his blue hat, which is 3 FAB point worth. It will likely give 1 DEF.
B gets the octopus sword, which is 0 FAB worth, but since it's funny it will give 3 POW and likely will be 2 handed.
C gets nothing, because there was nothing behind the column. Bad luck, I guess.
D gets a random piece of jewel (she hasn't stated which one she wanted), which will be 1 FAB worth (she guessed the "A" right).
As you can see, only FAB is fixed, the POW or DEF recieved is given by me as I see fit.
Actions:
Actions are the standard actions you see in the other games too:
You have 2 actions each turn, and major actions end your turn. There are 3 kinds of actions:
move: 1 move / turn, or double move if the room you pass through has already been visited
minor action: manipulating environment
major action: attacking, looting.
---
I hope the game sounds interesting. If you have any comments, please post it. Also, you can sign up with a name/color/gender/class. I'll randomly select 7 people.
My original idea is to draw each unique equipment by myself, on the fly. However, if someone wishes to apply for this task, I'll gladly accept help.


Please note that the game won't start until next week, but most likely until the 2nd week of september!