In time, the keeping of the Awesomesword and the search for clues as to its purpose become just another tradition for Clan Fourem, performed diligently but not really considered. That is, until the sword's power began to wane.
The blade had been used in battle numerous times by many Chiefs, but never showed so much a scratch until now. And yet, only recently, the silvery polish has worn away, and with it the message left by Masters A Dungeon to his descendants. But a new message has been revealed in its place:
If you are reading this, then you are the descendant of my descendant who braved the Prison and earned his just reward. Or maybe you are the last son of a doomed planet who traveled to our world as an infant; given great power by our planet's yellow sun, you have used your x-ray vision to see through this blade's thin layer of silver to this message beneath it. I'm going to assume the former is the case. Any superpowered aliens will just have to bear with me.

You're probably wondering why the Awesomesword is losing its powers, especially considering the great importance I placed on it in my previous message. It's true that most artefact-grade magic items are untouched by time, but due to its… unique origin, this particular weapon is pretty much guaranteed to diminish sooner or later. Fortunately, I have foreseen this, and researched a way to restore it to its former power. Included with this message is a map. Follow it, and you will find a dungeon. And in that dungeon, in the deepest, most heavily-guarded room, you will find a way to restore the blade.

Oh, and I should mention. Feel free to keep using the Awesomesword, but beware that it will diminish in power with each swing! Furthermore, the very same magic which prevents it from being used by other races will probably start to get… picky. The sword will become powerless once used, but only for that individual. It should still work (albeit slightly less effectively) for someone else. Provided they're a goblin of course!

Anyway, that's the situation. Hop to it! The fate of all Clan Fourem rests with you!

- Masters A Dungeon, Founder of Clan Fourem

PS: You should probably bring the Teller and seven other guys, but leave all your weapons and armour at home. Just trust me on this one.
And with those cryptic words, the Chief knew what he must do. He gathered the Teller and seven other guys, left all their weapons and armour at home, and set out on a little Adventure…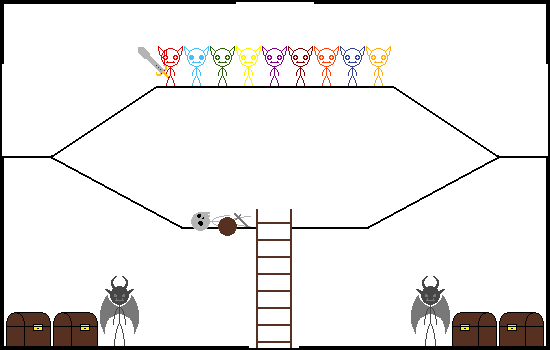 RULES OF THE GAME
Come on, like anybody doesn't know all this stuff by now? Whatever, here it is anyway.
Everybody has the following stats.
Hp: Hit Points. Run out and you die.
Atk: Attack. Remove this many Hp when you hit someone.
Def: Defense. Lose this many fewer Hp when hit by someone.
All Goblins start with 5 Hp, 1 Atk, and 1 Def, except the Chief who starts with 6 Hp, 2 Atk, and 2 Def. These stats can be raised with weapons, armour, shields, and other items. The Teller has normal stats, but can also restore 1 Hp as an action. He can also, while in possession of the Awesomesword, commune with his ancestors and ask a single question pertaining to the adventure. He can do this three times over the course of this adventure. Both the Chief and the Teller will be chosen democratically before the game begins.
By the way, you start with the Awesomesword.
THE AWESOMESWORD
Atk +7. 10% chance to kill an enemy outright.
Pretty kickin' stats, right? But every time the Awesomesword is used, its Atk bonus drops by one and its instant kill chance drops by 2%. When they hit 0, you've pretty much just got a hunk of useless metal on your hands, but don't worry. You might still get it fixed if you succeed in reaching the bottom of the dungeon! Also, each of you can only use the sword ONCE. So be careful with it! Furthermore, if you die while holding the Awesomesword, it MUST be the one item that you magically bequeath to one of your surviving allies. It's just THAT important!
You can all see and communicate with each other regardless of distance while in the dungeon. If you die you can, as I mentioned, send one of your items to a living Clanmate. However, any items left over are lost forever, so be careful.
Each update is one turn. During a turn you can take one action and move one room, in any order. Actions include but are not limited to attacking, manipulating the environment, talking to NPCs, looting chests, or moving a second time. If you attack, you cannot move afterwards. Talking to fellow Goblins and trading items (while adjacent) are free actions, within reason.
Updates happen 4-6 times a week. Saturdays are usually skip days. If you intend to sign up, you are asserting to me and your fellow players that you will be able to keep up with this post-a-day schedule. If this seems not to be the case, I will replace you. If you need to miss a few days, let us know in advance, and assign someone to play your character. Alternatively, submit to actions by GLORIOUS DEMOCRACY.
Anyone can sign up to play so long as you understand the rules, particularly about the update schedule. To sign up, just post the phrase "I wish to play, I am number ###" in
bold
. ### is 1 for the first person, 2 for the second, 3 for the third, etc. PLEASE make sure your number is correct. After a certain period of time I will close admissions and choose randomly from among those who signed up to see who gets to play. Once we have
nine
ten characters, you will choose your name* and colour and vote for Chief and Teller. If you want one of these roles, make your case for why it should be you! When posting actions, please put your character name at the head of the post, OR include your character colour somewhere. This is just to make my job a little easier. Spectators are welcome to comment, so long as they don't drown out the actual game.
There's nothing more to say. Get in that dungeon and start delving.
And Long Live Clan Fourem!
Goblin Roster:
1. Wanders Off, light green (Zathyr)
2. Hides His Face, dark green (Imp)
3. Listens Well, yellow (superfiver)
4. Wears A Cursed Armor, purple (BrokenCastle)
5. Crushed By A Mountain, dark red (WanderingFelyne)
6. Has Quick Hands, dark orange (DrunkenProphet)
7. Dungeon Keeper, red (arles)
8. Drill Sergeant, blue (ThinkingOfNames)
9. Fights A Losing Battle, orange (Nioca)
10. Thinks Twice, light blue (ReadsVoraciously)
*Choose WISELY, my friends!
The game will remain here on the forum and open to submissions/comments until the Tempts Fate drive is over. If you want this game to start sooner, donate.

Furthermore, there are three spots reserved for those who are willing and able to contribute money to Thunt so he can buy his house. In order to be considered for these positions, you must make a donation of at least $300 Canadian (1/100 of the total goal, according to Thunt on the live stream) and include with your donation the phrase "(forum name) was sent by LoneStarNorth", where (forum name) is, obviously, your forum name. Thunt will inform me of the first three people to do so. These three Goblins will gain a permanent +1 to Hp, Atk, or Def. Any who donate the required amount but are not among the first three will have to make do with knowing that they've helped Thunt and his family. If any of the three spots have not been filled by the time the Tempts Fate drive ends, they will become open to everyone.

Is a spot in my game worth $300? No. Is this a fair way to decide who gets to play in my game? No. But the proceeds are going to a worthy cause (or so I believe) and I'm not seeing a dime of it, so I hope anyone who takes issue will see fit to forgive me.

UPDATE: New developments explained here.